Natural Curly Hair Styles: Curly Afro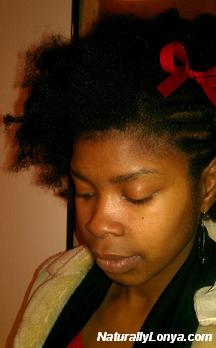 Natural curly hair styles are so fun, creative, and easy to do. Once you learn the basics of natural black hair care you will be set to do any curly style out there. Here are some of the natural hairstyles that I have done that have helped me in my African American hair care.
For more natural hair styles double click my youtube videos because there are an abundant about for you to master. I love showing others how to take care of and style their natural hair.
One of my most fun natural curly hair styles was my Curly Afro
The curly afro was a natural curly hair styles that I have been waiting to do, but just didn't have the courage to wear all my hair out in a full afro. So of course that meant that I had to just face my fear and show this hairstyle off. This was styled in the winter months.
I first started with a clean head of hair. Washed and conditioned my hair with Giovanni's smooth as silk shampoo and conditioner.
Giovanni has great black hair care products. I then detangled and lastly deep conditioned with a mix of Herbal Essences Hello Hydration and pure coconut oil and extra virgin olive oil. Herbal essences is very vital in my staple African American hair care and African American hair care products.
After I rinsed all the conditioner out, I set my hair with my oyin handmade honey hemp conditioner (my leave in cream). I smoothed on a quarter side amount of oyin handmade's whipped pudding.
Both these products are great black hair care products and have made my African American hair care so much easier!
I twisted up my hair in medium sized twists. There were about 13-14 twists all together. I then put medium side rollers on the ends and let it dry over night.
I made sure I put on my silk scarf first of course! In the morning I woke, hoping that my natural hair was completely dry. Sometimes my hair will not dry completely because of how thick it is.
Nevertheless I went forward with great anticipation and unraveled my hair. I then separated each twist and fluffed. Yes, my hair was soft and moisturized. I was certainly grateful that it had dried and set well over night.
With each separation of twist, my hair because a bigger and bigger curly afro. I fluffed and primped my hair until I was happy with the height and width.
And that's how my curly afro natural curly hair styles happened. I ended up putting it up in a puff a few days later. But the teachers and the students at my job were so amazed by how big natural hair gets. Everyone kept asking me if I had put in extensions or if it was a weave. It was very humorous!
Learn how to moisturize your Natural curly hair styles
Ask your hair questions here!
Do you have hair issues that you just can't seem to solve? Do you need help or advice? Share it! Ask me, Naturally Lonya, and I'll be more than happy to help!