Hair Twists
Hair twists come in all forms and sizes and depending on your hair type you may be more familiar with one style of twists over the other. Twists are fun, stylish, and very easy to do. Twists can help you create a new look and spice up your hair styling routine. One thing that's especially true is that twists are the gateway hairstyle into braiding.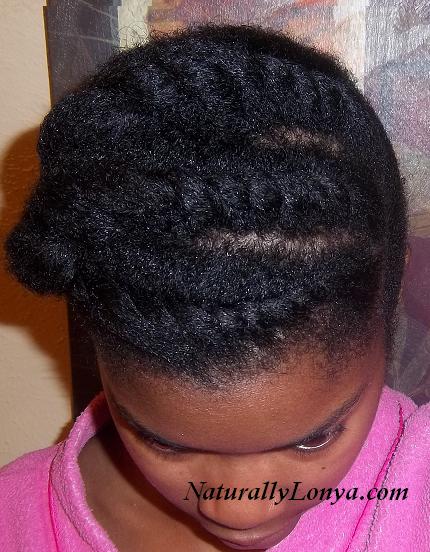 More people can do hair twists than people that can braid. Twisting hair simply involves that of having two hair strands being looped around each other. This twirling and interweaving process is continued down to the ends of the hair. Twists typically have to be secured at the end with some sort of rubber band or hair tie, because it is easy undone.
Let's break down all the various forms of twists you can have in your hair.
Two strand twists is the most basic form of hair twisting. This is the process that is described above where you twirl the hair around itself rotating down until you reach the ends of the hair. Lots of girls can do this type of twists and it is the quickest type of twisting style.
Flat twisting is when you take the hair back into a twist that is flat to the head in a cornrow like fashion. This is the first type of twisting that I did to the scalp which helped me move on the two strand flat twists. Two strand flat twists are when you take two strands of hair and you twist them in a cornrow style. It is sometimes confused with flat twists. Yet the only different is that two strand flat twists use two strands and flat twists use only one.
Kinky twists are when you start the hair off with a braid and then finish the hair strand with a two strand twist. I do kinky twists all the time and it is my favorite styles to do with extension hair. However you do not have to use extension hair. Since practicing natural black hair care, I have done mini twists on my natural hair a few times.
My mini twists are done without extension hair and they resemble that of kinky twists. Mini twists or micro twists are teeny tiny twists you do just like that of a two strand twist only much smaller. This type of twist style lasts for a longer timeframe.
Hair Twists is just to start...Click here to see cute braids! styles
Senegalese twists are a hairstyle that uses extension hair and like that of the kinky twists it is basically a two strand twist. However it starts at the root with a twist and not a braid. Senegalese twists are very popular in the African American hair community.
All these styles can also make a twist out style. A twist out style is fundamentally a hairstyle that started as a twist then later untwisted to create a crinkly textured hairstyle. If you put rollers or rods at the end of the hair while twisted, let the hair dry. Then untwist the twists and you are left with a very fun curly hairstyle.
If you have natural black hair then you will have a curly textured afro hairstyle. Twists are so fun and you should try any one of the hair twists that I mentioned here to see how you hair is recreated to a more fun spunky hairstyle.
Have A Great Story About This Topic?
Do you have a great story about this? Share it!