Kinky Twists are fun protective hairstyles!
Kinky twists are one of the many fun protective hairstyles you can do with natural 4c hair. My twists are done with marly hair also called marley braid hair. These twists are not to be confused with Senegalese twists which are hair twists that start off with twists instead of a braid.
I like my twists extensions to be medium and chunky which results in a kinkier and curlier 4c natural afro like texture. I have done smaller twists before and did not like the results. It's easy to learn how to braid beautiful braided styles and twists styles so I hope that you can add this one to your twists tutorials videos.
Also if you chose the black hairstyles of box braids, this would be the same way to start. The only difference is the fact that you would continue to braid the entire strand vs twisting.
1.Wash, condition, and deep condition hair to get it prepared to be in a protective hairstyle for a longer period of time.
2.Start off with stretch natural hair. The more stretch you can get it the better. I would suggest using a blow dryer. I did banding because I'm on a no heat usage challenge. Separate your natural hair into sections. I do three sections to help with spacing and uniform of the back section.
3.Braid and twists: First you are going to cut the twists hair in half for shoulder length hair or don't cut the hair for mid back length hair. After cutting split the hair strands into and then lay them out on chair or counter top (As pictured in video). Place twist strand on natural hair, braid for an inch or so. At the end of the braid portion, split the natural hair into two sections and twist into the hair. Twist all the way to the end of kinky twist then roll on perm rod or roller.
4.Dip kinky twist and perm rod into hot water
5.Cut the ends of the hair to enhance curl and neatness of style
6.Enjoy the this fun style and save $150 by doing it yourself! =) My natural 4c hair loves twists and I have seen so much natural hair growth from them!
Learn how to maintain Kinky Twists!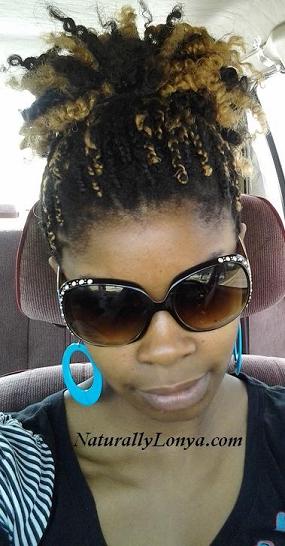 Have A Great Story About This Topic?
Do you have a great story about this? Share it!